You guys know that I'm passionate about my cookbooks, and after reading literally thousands, my standards have become pretty high for which ones I actually want to cook from. One of the newest to make that list is Spicebox Kitchen: Eat Well and Be Healthy with Globally Inspired, Vegetable-Forward Recipes. What immediately stood out to me about this cookbook is the fascinating background of its author, Linda Shiue. Dr. Shiue is a renowned chef and physician who creates recipes to fuel the body and mind to function at their highest potential.
Her focus with this book is to share the powerful anti-inflammatory effects of spices, as she crafts delicious recipes that leverage their vibrant flavors and healing, energizing qualities.
You know that famous phrase, "Let thy food be thy medicine and medicine be thy food"? It means that nutrition can be used to achieve optimal health and prevent disease, and in this food journey, Dr. Shiue puts it to the test with her 175 vegetarian and pescatarian recipes. My favorite aspect of her approach is that she takes readers on a culinary adventure to places around the globe, and for today's post, Dr. Shiue is sharing how to cook with healing ingredients from Asia, right from your own kitchen. Read on for her guide to making the most of these incredibly energizing ingredients, as well as one of her recipes for using them: the delicious Miso-Glazed Salmon from her book.
*images by Michelle K. Min for Spicebox Kitchen: Eat Well and Be Healthy with Globally Inspired, Vegetable-Forward Recipes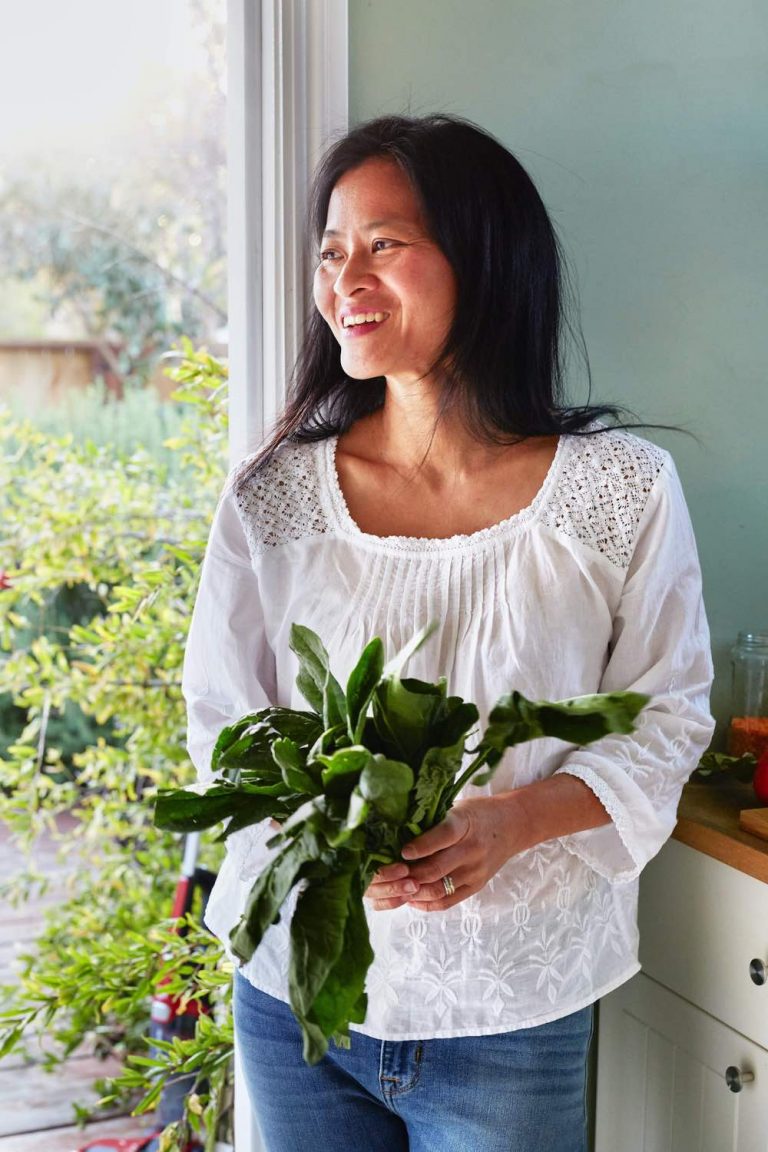 From Spicebox Kitchen: Eat Well and Be Healthy with Globally Inspired, Vegetable-Forward Recipes…
If I close my eyes, I can imagine myself in Taipei. The humid air, the sounds of the market, the scent of food being cooked by street food vendors, and the taste of pungent and fermented flavors that were once unfamiliar, but I now crave. Asia is a large continent with many distinct countries, cultures, and cuisines, so this section cannot be comprehensive. But I hope to give you a good sampling of the flavors and recipes I most enjoy cooking and eating from the region. Some recipes, I learned from my mother or other family members in Taiwan; others, from time I have spent living, studying, and working in different Asian countries; and still others were inspired by restaurant meals.
My parents immigrated from Taiwan in the mid-1960s as graduate students, and their path as researchers led them to a national laboratory located in semirural eastern Long Island, New York, where I spent a carefree childhood playing in the woods, collecting rocks, and riding my bike. We were the only Asian family in town when I was in elementary school, and there weren't any Asian groceries nearby. In fact, to get the flavors of my parents' homeland, we had to drive two hours to New York City's Chinatown, or fly more than sixteen hours to get to the source. What this meant for my early palate is that I was more familiar with Italian and Jewish food than with any kind of Asian food, and the kind of Chinese food I wanted was egg foo yung and fried chow mein noodles served with sweet duck sauce. What this meant for my mother, who hadn't grown up cooking, was that she had to learn how to cook the foods she missed. And because of where we lived, she simultaneously had to get creative with substitutions, as all immigrants do, such as spaghetti instead of fresh egg noodles, and to learn how to DIY, such as making her own salted duck eggs and chili oil and sprouting her own bean sprouts. When we did make it to New York City, we would stock up on as many shelf-stable staples as we could—dried noodles, short-grain rice, Taiwanese-style pickles, rice vinegar, sesame oil, and dried shrimp.
When I went to college, I had the chance to learn about Asian American culture, as well as the cultures of many other countries from East and South Asia. I joined all the Asian American associations and, for the first time, had a chance to gain some familiarity with the food of countries other than Taiwan, including China, Korea, Japan, India, and Thailand. I studied abroad in Singapore, during which time I also had the chance to visit Thailand, Malaysia, and Indonesia. After college, I worked in Sichuan province in China and was also able to visit other Chinese cities, including Xian and Beijing, and Hong Kong, pre–Chinese control. And while I did this all on a student budget, I ate well and began to understand that a culture's foodways are a great portal to understanding. I learned to appreciate spice and spices, acidity, and the funk of fermentation. I began to love visiting local markets. I married a man from Trinidad whose DNA traces to India, China, and elsewhere and learned how to cook the Trinidadian Indian food he missed. All of these experiences helped me to develop my palate and appreciation for diverse Asian flavors.
I won't claim that these recipes are "authentic" or "traditional"; they are a modern representation of the tastes that have all stayed with me long after I've returned back home. In many cases, I have made plant-based versions of dishes that might be more familiar to you with meat, making them lighter and healthier. As you cook through these recipes, I hope you will feel transported to the different countries and cultures that inspired them. As we say in Taiwan, chiàh-pn?g! (Literally, "eat rice"; conversationally, "let's eat!")
2 of 3
Dr. Shiue's List of Ingredients to Have on Hand for Asian Cooking:
Spices
chile peppers
cinnamon
cloves
furikake
ginger
gochugaru
dried orange peel
sesame seeds
Sichuan peppercorns
star anise
Sauces
Fish sauce, such as Thai nam pla, Vietnamese nuoc mam, or Filipino patis
chili sauce
gochujang
hoisin
mirin
Herbs
cilantro
green onions
Thai basil
Fats
canola, grapeseed, or peanut oil
coconut oil
toasted sesame oil
Acids
rice vinegar
black vinegar
lime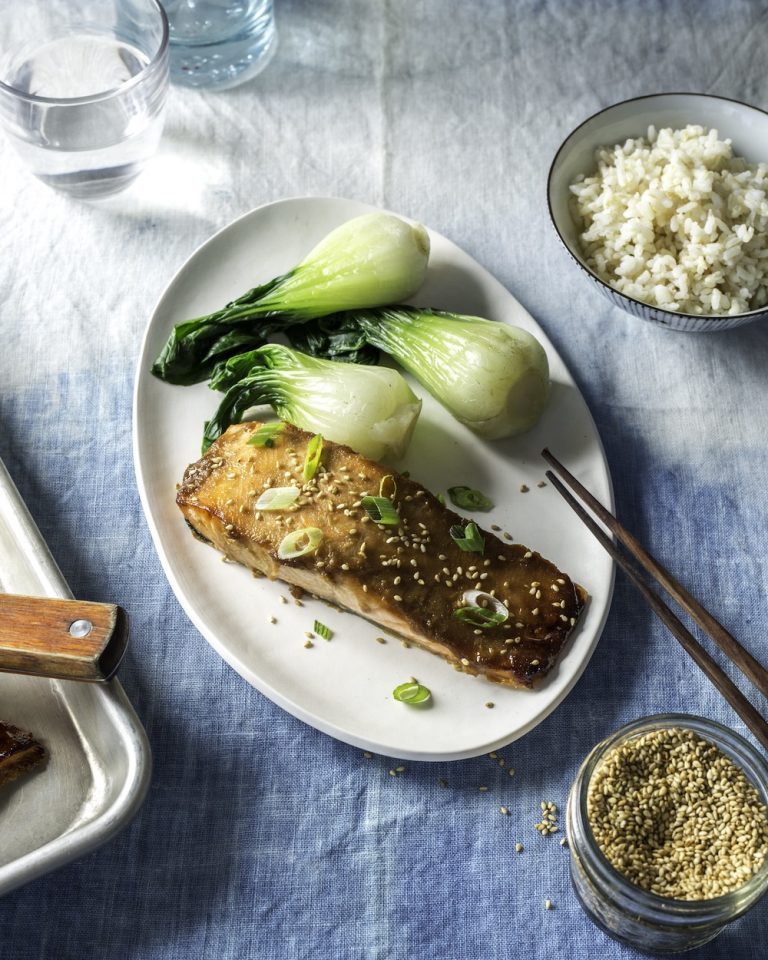 Get Dr. Shiue's recipe for Miso-Glazed Salmon below…